Taylorsville Bathroom Cabinet Renovation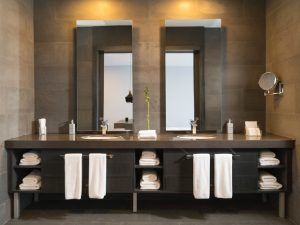 Want to give your bathroom your personal touch? Contact our team at Taylorsville Cabinet Restoration!
Here in Taylorsville, we are one of the most trusted companies to approach when it comes to cabinet renovations. We take your lifestyle, needs, and budget into account when we take on your projects. As we do your project, we will let you know what is ideal for your space and ensure that the bathroom cabinets are functional and fit the style that you want.
Even if you have no idea about what kind of renovations you can do for your bathroom cabinets, it is not a problem because our team can help you out with this issue. Contact our team at Louisville Cabinet Restoration to find out more about our services and how we can improve your bathroom.
Call Louisville Cabinet Restoration at (502) 469-1383 for a Free Consultation!
Bathroom Cabinet Renovation
Renovating bathrooms can be very expensive, but it is the most common type of renovation done in homes today.
While renovations can sound expensive at first, there are ways to save a lot of money in doing it. When you approach our team, we can give you a very reasonable quote which can cover everything you need for the renovation. We will assess the room, the furnishings, and see what we can do to renovate it to your style. You will also be given a choice on what paint and designs we can add to your bathroom.
Let's Talk Now – Free Consultation
Want to get the bathroom of your dreams without having to spend a lot of money for it? Here at Taylorsville Cabinet Restoration, we can provide you with excellent cabinet renovation solutions that will fit your style and your budget.
Call Louisville Cabinet Restoration today at (502) 469-1383 for your Free Consultation!