West Point Kitchen Cabinet Renovation
Louisville Cabinet Restoration offers the best Louisville kitchen cabinet renovation in town. If you want to have the kitchen setup of your dreams, especially if your house is a purchased as-built property and everything is already designed by another user, then our services are perfect for you.
At Louisville Cabinet Restoration , we understand how home improvement can be an intimidating task for many homeowners, whether it's their first time doing it or not. There is a long list of options to choose from, from the size of the cabinets to the style of the entire kitchen system. However, don't let the challenge stop you from reaping the benefits of a full package Louisville, KY kitchen cabinet renovation from Louisville Cabinet Restoration . Apply your tastes, aesthetics, and lifestyle to your personalized kitchen world.
Louisville Cabinet Restoration is proud of our top-notch kitchen improvement specialists that have been helping many clients with all their kitchen renovation needs. For high-quality and attractive renovations, upgrades, features, and construction solutions that fit your budget and schedule well, all you need is Louisville Cabinet Restoration .
Call Louisville Cabinet Restoration at (502) 469-1383 for your Free Consultation!
Kitchen Cabinet Renovation
There is a wide selection of services you can choose from when it comes to renovating your entire kitchen system. From simple refacing and repainting services to large-scale upgrades each of these packages provides certain advantages.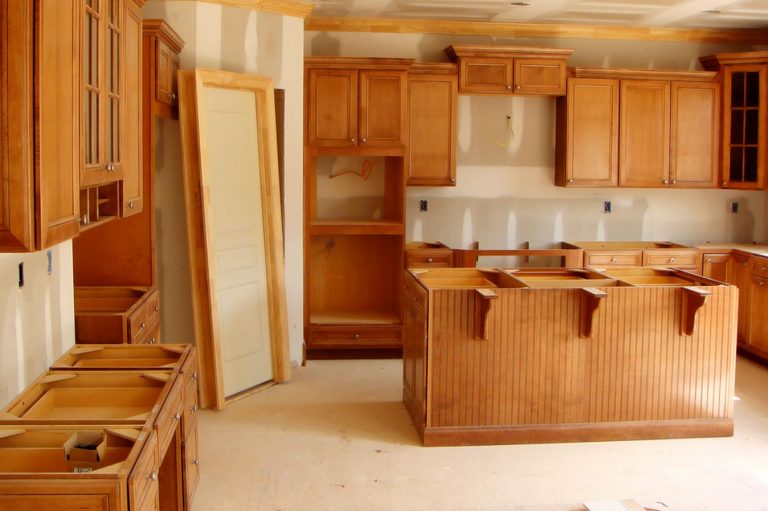 If you're looking for a small-scale refreshing of your kitchen amenities without changing anything on the layout and structure aspects, then you can avail of our kitchen cabinet repainting, refinishing, or re-staining services. These services renovate your kitchen amenities on the surface level only. This is perfect for your kitchen if you don't want any changes in the arrangement and foundational parts of your units while still giving the room a newly refurbished look.
If you're looking for a setup or a repair of certain parts of your amenities without wanting to change anything regarding the layout, then our kitchen cabinet refacing services will work for you. Refacing involves changing the damaged parts of the cabinets, such as the hinges or handles, or adding an outer layer of wood or plastic to reinforce the surfaces. With refacing, you can also add new refinishing packages that can change the design of your units.
Indeed, Louisville Cabinet Restoration is your one-stop-shop for all your kitchen improvement needs. We have all the expertise, resources, and experience needed to provide the highest quality of renovation services for our clients. Just tell us your goals, preferences, budget, and schedule, and we will work on your kitchen the best way possible.
Full-Service Kitchen Cabinet Renovation
In our experience handling various clients with different needs, we know that it's not enough to provide a list of the services and packages we have to fit each client's goals and taste perfectly. Getting the best kitchen cabinet system will involve careful planning and decision-making, not to mention great ideas and recommendations from seasoned professionals in the kitchen improvement business. That's where Louisville Cabinet Restoration comes in.
As your leading Louisville kitchen cabinet renovation company, we provide more than just the technical aspect of kitchen improvement. We are also here to provide you with expert advice and support from start to finish. We'll happily address all your questions and concerns. We are here to plan and decide with you so you can achieve your perfect kitchen system.
From consultations, customer support, planning, and designing to renovations, refacing, repaints, upgrade, repairs, and maintenance work, we got it all for you. If you have a need related to kitchen renovation, we can provide that for you.
Let's Talk Now – Free Consultation
Enjoy a fully customized kitchen cabinetry system provided by experts from the best Louisville kitchen cabinet renovation company. Get our industry-level construction packages at the most reasonable prices in the market.
Just tell us your budget and preferred timeline, and our kitchen cabinet specialists are here to commit to making your kitchen dreams come true.
Call Louisville Cabinet Restoration at (502) 469-1383 for your Free Consultation!