Lebanon Junction Bathroom Cabinets
Are you looking for a full renovation package for your house? Or maybe you just want to have minor changes that can freshen up the look of your home?
Louisville Cabinet Restoration , the leading service provider for newly-refurbished Louisville bathroom cabinets, is at your service for your bathroom renovation needs.
One of the best upgrades you can do for your home is to invest in your bathroom cabinets in terms of style, functionality, and durability. Choose among a wide variety of service packages, from refinishing and repainting to renovations and repair. Our bathroom improvement experts are dedicated to providing the best workmanship for your bathroom renovation needs.
Call Louisville Cabinet Restoration at (502) 469-1383 for your Free Consultation!
Ways to Upgrade Your Bathroom Cabinets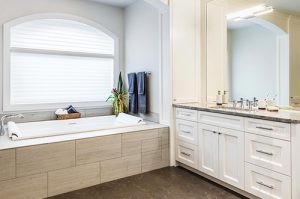 Each of the different ways you can rejuvenate the look and structure of your bathroom cabinets provides unique advantages. It is vital that you know first exactly what you want and how much time and money you are willing to spend before choosing which package you're going to get.
Cabinet Refinishing
Cabinet refinishing involves removing your cabinets' surface layer and applying a new, more stylish, and higher quality finishing material to upgrade your units. Several types of damages can also be repaired with a refinishing session. This package makes your cabinets look good as new with fantastic finishing products that you can choose for a very affordable price.
Cabinet Painting
Another affordable yet amazing way to freshen up your cabinets is to give them a repainting job. This allows our clients to take a pick from a wide range of paint styles, colors, textures, and finishes, making highly personalized looks that can match the rest of the house or room. With Louisville Cabinet Restoration , rest assured that your newly refurbished Louisville bathroom cabinets would be covered with only the highest quality, durability, and attractiveness of paint that the industry can offer.
Cabinet Refacing
Sometimes, the visible wear that old cabinets show may make homeowners think of replacement as the best option. However, this is not always the case. In some situations, refacing can do the job best, as they are way cheaper than a full replacement of your cabinet units, yet they still freshen up your units enough to be as good as new. Refacing involves major and minor changes to the cabinets' hardware and surface parts, allowing great design options without changing or replacing the entire cabinet structure.
With refacing, you can replace only your cabinets' doors to get a new look or upgrade them altogether. Choose from options like solid wood, glass, or frames to have a fully customized new look. You can also choose from a wide array of finishes, from natural wood finishes to painted finishes.
Cabinet Renovation
Finally, if you're looking to change the entire bathroom cabinet system to fit your tastes and needs better, then a full renovation is the right choice for you. Louisville Cabinet Restoration offers a myriad of options for finishes, materials, features, layout options, styles, designs, and other specifications for you to choose from. This option is great for homeowners who live in a pre-designed house.
Why Louisville Cabinet Restoration is the Best Choice for Your Bathroom Cabinet Needs
Louisville Cabinet Restoration is the leading provider of improvement services for all types of Louisville bathroom cabinets, and we can proudly say that we can handle whatever major or minor construction needs our clients are to have out there.
With our extensive experience in the field, we have all the training, expertise, and resources needed to provide the highest quality of bathroom renovation services the industry can offer. Our products are sourced only from the best suppliers in the business, and our long list of previous satisfied customers will tell you that you can trust us to work on your bathroom cabinets. Just tell us what you need, and we will readily provide that for you as fast and as efficiently as possible.
Let's Talk Now – Free Consultation
As a top-notch cabinet company in the city, we are dedicated to helping our clients achieve their dream bathroom cabinet systems and home improvement goals.
With our top-of-the-line products coupled with our stellar customer service and workmanship, you can guarantee that you will get the best Louisville, KY bathroom cabinets of your life from Louisville Cabinet Restoration .
Call Louisville Cabinet Restoration at (502) 469-1383 for your Free Consultation!